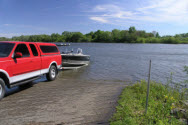 Whether you use boats for work or recreation, these boat safety tips from the Wisconsin Department of Natural Resources will help you avoid trouble on the water and get home safely.

Operator inexperience, inattention, recklessness and speeding are the four leading causes of tragic watercraft crashes. The leading cause of death is drowning. Crash statistics indicate boaters who wear life jackets and take boater safety courses are most likely to stay safe on the water. Follow these basic safety tips to safely enjoy boating for work or pleasure.

Leave Alcohol Onshore
Never use drugs or alcohol before or during boat operation. 

Alcohol's effects are greatly exaggerated by exposure to sun, glare, wind, noise and vibration.  
Use and Maintain the Right Safety Equipment
Have a U.S. Coast Guard-approved life jacket for each person onboard and one approved throwable device for any boat 16 feet and longer. The DNR recommends that everyone wear their lifejackets while on the water.
Have a fire extinguisher.

Have operable boat lights - Always test boat lights before the boat leaves the dock and carry extra batteries. 

Take emergency supplies - Keep on board in a floating pouch: cell phone, maps, flares and first aid kit.
Learn about some key equipment to keep you safe in this boating safety equipment video.